Seeking strategy do-gooder or mentor to help us grow!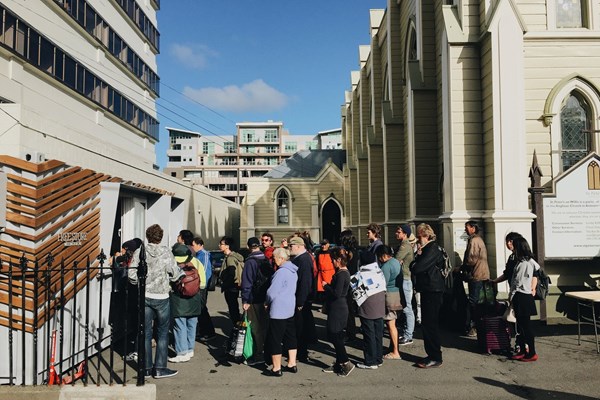 Seeking strategy do-gooder or mentor to help us grow!
The Free Store
Estimated Time: 14 - 16 Hours Over 2 - 3 Months

The Free Store is a grassroots volunteer-driven initiative in Wellington and feeds between 100 to 150 needy Wellingtonians 5 evenings a week. It has created a truly wonderful community of people who all work together to keep this initiative running. Not only does it reduce huge amount of waste, it provides a place for people to be welcomed, fed and even give back by volunteering themselves. We need a volunteer to advise/mentor our store manager and initiate come planning sessions with our team of committed volunteers with a view to develop , grow and help us plan the next phase. You could be a business mentor, have strategy experience or simply if your think you can help with the 'big picture' please apply Someone with energy and an understanding of community initiatives, how they run, the challenges and the opportunities therein would be fab.. Help us continue to make a difference in our community!
Working location
Flexible
Proposed project steps with time estimates
We have operated for 8 years and its now the time to look at whats next. The timing and specific scope of the project is very flexible and broadly, we are looking for someone to work with our manager and committed volunteer team to do future planning and help us grow. We are very flexible to how this works and envisage that we meet and plan depending on how much time you can commit.
A guide might be
Briefing (1- 2 hours)
One to one sessions with manager (6 X 1 hour)
Prepare and plan workshop with volunteers (4-5 hours)
Assist draft a plan (including next steps and identify resources needed) 2-3 hours
What We Have In Place
We have a wonderful manager of the store and a magnificent team of volunteers! Really, we would love someone to come along and help refine, plan, strategist the process and plan for the future.
Someone with ideas, strategy nous and an ability to get things done! there would be people to help execute ideas and plenty of enthusiasm from the current team.
Facebook https://www.facebook.com/thefreestorewellington/
---
The Free Store
Food

Wellington
Mission
It is a travesty that people in our neighbourhood go hungry when there is perfectly edible food that is wasted. The Free Store ensures that our inner-city dwelling friends have access to quality food where cost isn't a barrier. No questions asked and no strings attached. Anyone is welcome to partake
What we Do
The Free Store was founded in November 2010 after an art project inspired a group of friends. Kim Paton, an artist from out of town, set up a regular-looking shop stocked with food on the shelves. The peculiar difference being that customers could simply take the food for free. The art project came and went within a matter of weeks but a group of Wellingtonians had their brains buzzing. After discovering that some of the food in this shop was surplus food sourced from local cafes they asked, what if this could be a sustainable food supply?