Bloody Great Queenstown Chapter Head Bitch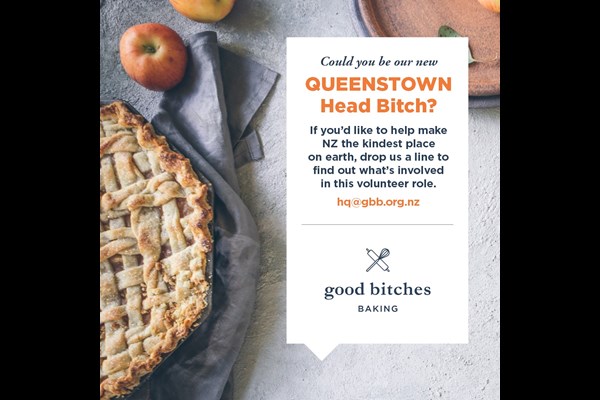 Bloody Great Queenstown Chapter Head Bitch
Good Bitches Trust
Estimated Time: 104 - 260 Hours Over 0 - 1 Years

Good Bitches Baking is a network of people who want to show kindness to those in their communities who are having a tough time. We do this by baking them a delicious home- baked treat. We need someone who's organised, able to lead a team and has a 'get sh!t done' attitude to run the Queenstown Chapter. This will involve relationship management, rostering volunteers, recruiting new volunteers, and a little fundraising.
Working location
Working from home/online. Hours will need to be flexible to fit in with other volunteers commitments, but mostly you can do the role at a time that best suits you.
Proposed project steps with time estimates
This is an ongoing role - we'd like someone who can commit to 12 months if possible, to give the Queenstown Chapter some stability.
Recruitment of the new Head Bitch, will involve a video call with the GM, followed by reference and criminal convictions check.
After this there will be an induction process to bring the new Head Bitch up to speed with how to run a GBB Chapter. The previous Head Bitch has already stepped down from the role, but may be available for a handover. One temporary committee member is available until Christmas to help out, but the new Head Bitch will need to recruit a couple more committee members quite quickly.
What We Have In Place
The Queenstown Chapter is all set up with 25 volunteers and 2 recipient organisations. We have a new contact management & rostering system that is currently being introduced to the Chapter - this has been delayed slightly as baking deliveries have been on hold due to Covid restrictions.
There is lots of room to grow and develop the chapter, once the new Head Bitch is comfortable with running the chapter.
We have operation manuals, clear and easy processes, and lots of support in place.
Being a Head Bitch involves:
- Responding to queries about joining, signing up bakers and drivers and getting some boxes to them
- Arranging recipients to deliver baking to, and keeping in touch to make sure they're happy
- Doing a monthly roster and weekly briefing for your bakers and drivers
- Some local fundraising – we'll help you get started and then chapters are expected to contribute towards their own running costs and GBB's administration costs.
- Some basic reporting back to GBB HQ about numbers of bitches, recipients and boxes delivered.
Skills you'll need include:
- Ability to lead a small team and keep the committee on task
- Good communication to respond to queries and manage relationships with recipients
- Comfort with online documents (Google Drive and Docs) and email/social media as GBB is entirely cloud based
- Basic financial skills to responsibly manage fundraising activities
- Organisation and attention to detail to manage the different aspects of chapter activities
You'll need to commit for at least 12 months to give the chapter stability.
Chapter Support
You won't be on your own, support from GBB HQ in Wellington will always be at hand. We'll help you through the process of settling into the chapter and provide all the support you will need for day to day and one off activities.
---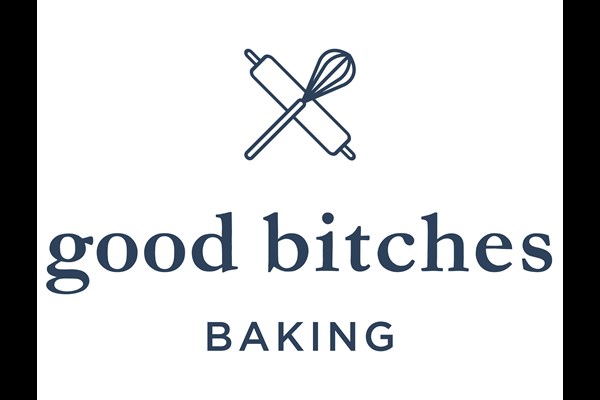 Good Bitches Trust
Children
Community Group
Disability
Family Support
Food
Good Cause
Health
Health - Children
Health - Elders
Health - Family
Homelessness
LGBT
Maternal Health
Men
Mental Health
Parental Support
Social Services
Violence Support
Wellbeing
Wellbeing - Children
Wellbeing - Older People
Women
Youth

New Zealand wide
Mission
We're on a mission to make Aotearoa New Zealand the kindest place on earth
What we Do
Good Bitches Baking is a network of people who want to show kindness to those in their communities who are having a tough time. We do this by baking them a delicious treat. ​There are too many people out there having a tough time: families with children in hospital; those using food banks and soup kitchens; residents in hospice and their loved ones; women and children fleeing domestic violence. We hope to give them just a moment of sweetness in their time of crisis. ​People tell us that knowing someone cared enough to make them a treat helped them through the toughest of days.