Help us bring NZs first period market to life - event volunteers needed!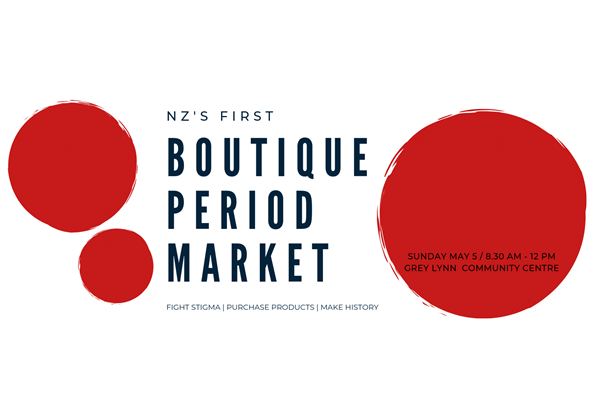 Help us bring NZs first period market to life - event volunteers needed!
The Period Place
Estimated Time: 6 - 8 Hours Over 1 - 1 Days

We are after energetic, personable volunteers to help us bring The Period Place Boutique Market to life. We're making history with NZ's first ever period market! This market is a safe space to learn about menstruation and different products on the market - it's aimed at anyone who gets a period, and everyone around them - parents, kids, teens, you name it! There will be something there for you. You need to be comfortable moving around on your own and showing initiative - we need people who can help set up 12 trestle tables + pack them down, provide direction to people out on the street where to go (the market is inside Grey Lynn Community Centre), assist at the main door, manage the donations area etc. General event volunteer things.
Working location
Grey Lynn Community Centre, Auckland
Proposed project steps with time estimates
6am Danika + Sarah (co-founders of The Period Place) arrive GLCC
6.15am Volunteers arrive GLCC
6.30am Event run through with Danika & Sarah
6.45am Set up trestle tables and tablecloths
7am Stallholders arrive and set up stalls
8am Stall setup completed
8.15am Final visual check
8.20am 2 min talk with all volunteers and stallholders
8.30am Cut the ribbon - lets bloody party!
12pm Market ends - pack down begins
1.30pm Group hug, it's all over.

What We Have In Place
We have the biggest period product brands in the country as stallholders. OI - just launched in USA in to 3,500 Walmart stores, I am Eva - NZ's first period underwear, My Cup - pioneer in the period industry and only NZ company to manufacture cups in NZ, not to mention two innovative subscription period product services - one personal, one through work, down to small NZ brands who make their cloth pads by hand on their sewing machines at home, oh, and The Women's Bookshop in Ponsonby for all your period and kick-ass feminist read needs!
---
The Period Place
Accessibility
Community Group
Education
Environment
Health
Wellbeing
Women
Youth

Auckland
Mission
Smash period stigma in society, educate people on healthy period products and the environmental impacts of periods, and eradicate period poverty in Aotearoa.
What we Do
Smash Period Stigma. - We Believe The Fight Starts With Using The Right Terminology And The Right Language To Describe Periods - You'll Find No Fluffy Terms And No Analogies To Hide Behind Here - We Provide Free Events And Welcoming Public Spaces For People Of All Genders, Cultures And Ages To Learn About Periods Provide Education. - We Provide Aotearoa With Information On Healthy Period Product Options, On Personal Health And Menstrual Care, On Sustainable Period Products And Environmental Impacts - We Have Begun Work On Finding Out The True 'period Status' Of Aotearoa - From A Micro Level To Where We Are Placed In The World Eradicate Period Poverty. - We Champion Brands In This Market That Give Back To The People Of Aotearoa - From Local Manufacturing And Buy-one-give-one Models, To Those Who Distribute A Portion Of Profits - We Are Taking This Human Rights Issue To The Top - Talking To Mps And Lobby Groups About Period Poverty Issues And Solutions